---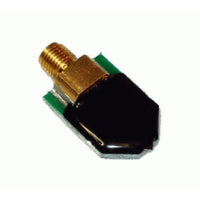 The STJ-230 is Micro Magnetics' low-noise single-axis magnetic sensor in SMA probe package. The sensor die features Micro Magnetics' low-noise SpinTJ sensor. The die is 0.89 mm square and 300 microns thick. 
The field sensitivity of the STJ-230 is 5 nT/Hz0.5 at 1 Hz and better than 1 nT/Hz0.5 at high frequencies. These values are 10,000 and 50,000 times smaller than the magnetic field of the Earth, respectively.
The STJ-230 is a two-terminal device which is accessed through a standard SMA connector.
Features:
Superior field sensitivity of < 1 nanotesla
Field sensitivity of 5 nanotesla at 1 Hz
Compact size (0.9x0.9x0.3 mm)
Linear, bipolar response
Compact SMA connector